Not the best reference as I've only completed 13 TVB dramas that was produced in 2018. But I will still do the ranking for the top 8 dramas I love this year.
I did my Top 8 for 2017 as well, and in comparison, I feel that 2017 have better dramas and higher competition.
Also, this time round, the post is scheduled earlier to be inline with the TVB Anniversary Awards 2018 which is happening earlier as well.
1. Threesome 三個女人一個「因」
Total no. of episodes: 18
Genre: Legal
Lead actress, Mandy Wong, won the Best Actress for both Malaysia and Singapore 2018 with her role as Evie (方以因) and the other 2 split personality role as Pina Colada (菠蘿椰奶) and 愁擘擘 (阿愁). This is the best drama (to me) in 2018 and her role in this drama is really strong and she pull off brilliantly.
This drama shows me how to think differently, understand them better.
The logic of the house within a person where the main character will be out in the living room and each personality will not be able to come out of their individual room unless the main character is gone.
2. Who wants a baby? BB來了
Total no. of episodes: 20
Genre: Family
Not in the list of my most anticipated drama in 2018, and I was not expecting it to be this good. I guess the approach of the scriptwriter really drill down to the real life (down-to-earth) and the cast such as Ali and Lai Lok Yi really portray it well.
And also, the four different baby girls that acted in the drama are super adorable.
3. Life on the Line 跳躍生命線
Total no. of episodes: 25
Genre: Medical
Did a short review on this drama that I've completed in November 2018 here. I would say overall the drama is good, the ending is nicely scripted.
4. Heart and Greed 3 溏心風暴3
Total no. of episodes: 40
Genre: Family
Really enjoyed their second sequel of the Heart and Greed series which focus on Mooncake business. The third sequel wrote about family business in the local restaurant (Cha Chan Ting) vs. the rich which appreciate English tea.
I did speed re-watched this drama in the second half of the year to refresh my memory and really enjoy it with the second look. There are no bad guy in this sequel, but the chaos are majority caused by one's foolishness.
5. Apple-Colada 果欄中的江湖大嫂
Total no. of episodes: 30
Genre: Family
Did a short review on this drama earlier this year. Still one of the drama that I might re-watch it someday.
Still thinking about what is the original script like when the first ever trailer released which features Moon Lau and Elaine. Both are written out of the drama after Moon decided to go for Life on the Line instead of this. (Wise decision?)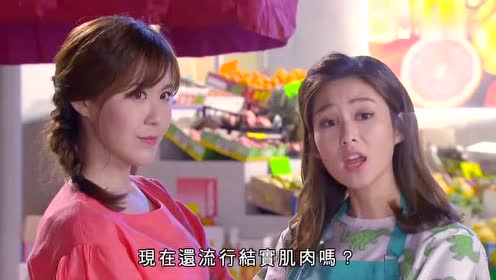 6. Stealing Seconds 棟仁的時光
Total no. of episodes: 20
Genre: Romance
What will you do if you life suddenly stopped and reset to zero? After realizing that you are able to steal someone else's time by kissing them, will you do so?
This drama is "time sensitive" romance which is easy to watch with some out of the box ideas from the scriptwriter.
However, it reminds me of the movie [In Time] acted by Justin Timberlake and Amanda Seyfried in 2011. Which is one of my favourite movies.
7. The Stunt 特技人
Total no. of episodes: 25
Genre: Action
Full of stunts, actions and showcase the hardship of the crew behind the camera. Which is really impressive. Understand their inner thoughts and also see how they pull through every dangerous stunt like gambling their live away every time.
8. Deep in the Realm of Conscience 宮心計2·深宮計
Total no. of episodes: 36
Genre: Period
Even though it is less exciting compared to the initial 宮心計, but the ending is not as well scripted as I hope it will be.
Are you surprised that Another Era 再創世紀 is not in my top 10? I don't see the built up hype and also the message that the scriptwriter wants to convey. But I do like the performance by Gloria, even though she is just a small supporting role in this major production.
Really hope the 2019 lineup and dramas will be back to standard!