Sadly, it is officially coming to an end to the series with a total of 5 episodes. Accompany us and giving us 5 weeks of GOT4!
#1 Members' home and wardrobe
This is not included in the main cut of GOT7: Real Thai but it was released before they air the first episode on 16 Jan 2019 as a teaser.
Know that it is indirectly invading their privacy, but I do like to see their living condition now since all of them move out and not staying together.
Jinyoung and Mark's cuts: 
Youngjae (ft. Coco) and Bambam's cuts: 
#2 Leader's closeup solo shots
Guess this is the best thing that happened to Youngjae after he was appointed the leader of GOT4 in Thailand. He has all the solo close up shots!
#3 Stunned by the sudden stop
This is just my favorite moment ever since they released the trailer with this cut. He look so genuine when the obstacle course suddenly stop and almost hit the staff.
#4 Bambam fart on national TV
This is really funny and everyone thought that it was real, even me. SHOCKED and Bammie is so happy to see their faces and decided to do more.
#5 Jinyoung's ageyo
While they are doing the segment where they have to gain "likes" from the audience (apparently they are staff in the resort), Jinyoung team up with Youngjae for the performance.
During the last part of the performance, the moment strike within split seconds but he recovered fast for the handsome ending.
He immediately regret it after doing this and it totally steals my heart! (After 1:27)
#6 Competitive Mark (or easily triggered Mark)
Mark's competitiveness just outburst many times throughout the 5 episodes.
#7 Markjin going strong
Many fans notice the drama that is happening between Mark and Jinyoung's moment which is really cute. I guess I will be able to do a post for just all the #markjin moments in GOT7: Real Thai.
Their first dinner in Thailand, they sat next to each other.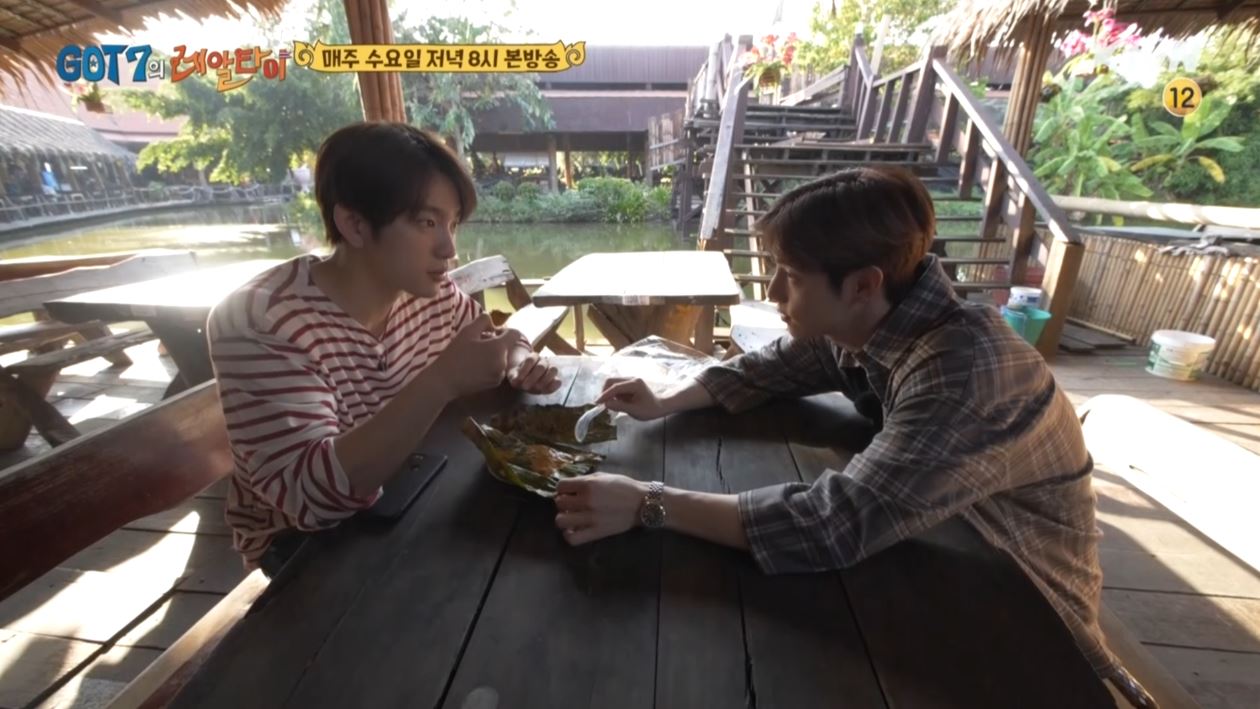 #8 GOT3 going all out
When you think of "idol" you will probably feel that they are perfect and forever charming. And here's our idols, going all out and just having fun.
This is not the first time they did "ugly" faces, but this shocked the main emcee.
#9 Bambam pouring heart out
In the last episode, Bambam head off solo for the mission to the other end of Thailand himself. While watching the sunrise, he starts to think and get sentimental. Thinking back how GOT7 started and struggles during their first 3 years.
Guess I will be doing the Guide version for this variety show soon with episode guides and also other unreleased videos.